Photo: Robbers Shoot Lady in The Mouth For Resisting Rape
|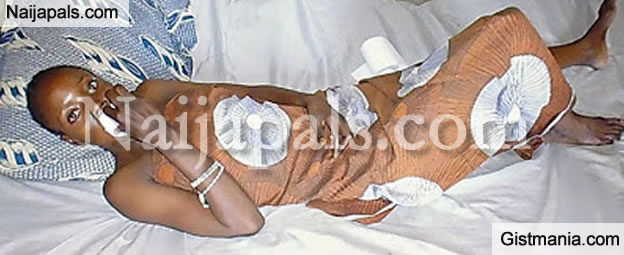 One Mrs Caroline Anande, a widow with seven children has
narrated how her younger sister was shot in the mouth by
armed robbers, to Us. Read the report below:
Geri could not talk to us, but could only write down responses
relating to the incident, because her tongue was almost cut
off, her mouth terribly wounded by bullets robbers shot at her
mouth. She could not turn her head either because the bullet
hit part of her neck. She lay helplessly in bed with sanitary
tissues stuffed into the mouth to suck up saliva that drips
uncontrollably from there. She indicated that they had lived in
the same area of Abuja for over five years. Geri's trouble
further burdens her elder sister whose late husband was
buried just three months ago. "My heart is heavy, I am
heartbroken looking at my sister lying in pains, she was
supporting me immensely with the little income since my
husband died. We had been managing to cope with our lean
resources until armed robbers surF@ced to wipe sleep away
from our eyes." This poor widow explained that Geri, always
leaves home at 4:30am for work, though she left at 5am that
morning, because of the daily traffic on the Nyanya-Mararaba
express But she couldn't get to Abuja-Keffi expressway to
board a bus that will convey her to town that day. "My sister
testified after regaining consciousness on a written note, how
a masked armed robber snatched her phone and handbag.
Thereafter, commanded her to undress, she pleaded with
them, they were two men the unmasked man was behind
backing them while the operation was going on. But, they
shouted at her to undress amid her pleas explaining that she
was menstruating. But these evil agents insisted on
molesting her In the struggle, she screamed loud in fear for
help, and that angered the armed man wearing mask that shot
a bullet into her mouth and vanished, leaving her
unconscious and bleeding. It was an okada rider residing
within their vicinity that called to inform the sister of the
incident.
520c00e2b952fc6e1a88f73168056669_3345636030